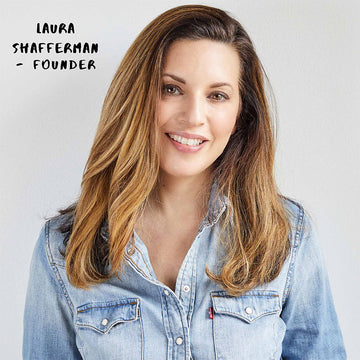 After spending over a decade in NYC real estate marketing, Legally Addictive founder Laura Shafferman was suddenly laid off and bound by a non-compete clause that prohibited her from working with other firms. (Yes, you can get laid off and also held to such things!)

Laura had lost her usual means to earn a living for a full year and was determined to take control over her future and not wait for that non-compete clause to expire. As a creative trapped in a long series of jobs that required constant spread-sheet making, this was somewhat of a relief and also the catalyst needed to make actual change. Fatefully, after making a batch of her favorite childhood cookies for a party, a friend suggested she sell her homemade toffee and chocolate covered crackers at a holiday market. After selling out in only a few hours, she knew they were a hit and a new business was born!

She spent the next year learning the food business and recreating the recipe for shelf-stability and during the day, worked various odd jobs to support herself. Eight months later, a few stores in New York City agreed to carry Legally Addictive, including the flagship location of Dylan's Candy Bar. At the time, Laura was making cookies in the off-hours of a bakery in Brooklyn, often until well past midnight, and then delivering them around town on the subway and bike.
Cookies
Fast forward to six years later and Legally Addictive is now carried in over 1500 retailers and hotels and has just moved to a 6,800 sqft production space in Weaverville, NC in July '22.

A co-branded product partnership with Dylan's Candy Bar launched in August 2017 followed by other retailers such as Williams Sonoma and the Kimpton Hotel Group. They will be releasing a top- secret new product for the holidays later this year and are currently working on various collaborations with other brands like-minded woman-owned businesses.